PancakeSwap (CAKE) is a popular decentralized exchange (DEX) that has recently recovered thanks to several positive events, including the introduction of the Aptos PanCake bridge, the PanCakeSwap burn event, and Venus Protocol Partners with PancakeSwap.
Crypto news flash: #PancakeSwap Burns $28 Million Worth of #CAKE, Price turns Positive

— Voice of Crypto (@VoiceofCrypto2) December 5, 2022
PancakeSwap is a cryptocurrency exchange that uses the BNB Chain (previously known as Binance Smart Chain) instead of Ethereum (ETH). It enables users to easily trade BEP-20 standard tokens. BEP20 is a token standard used to create tokens on BNB, similar to ERC20, which is used to create tokens on Ethereum.
It is worth mentioning that the PancakeSwap (CAKE) coin achieved an all-time high of $44.18 in April 2021. CAKE, on the other hand, fell to a 52-week low of $2.51 on June 18 as a result of the unfavorable conditions brought on by the Terra-UST failure, Elon Musk's negative remarks about Tesla Bitcoin payments, and the Chinese government tightening its cryptocurrency regulations, all of which were seen as key factors that had a negative impact on PancakeSwap (CAKE) prices.
On the other hand, the cryptocurrency market is going to end the year on a bearish note after failing to halt its recent downward surge. It seems that 2022 will be no different from previous years in terms of cryptocurrency pricing over the final few weeks of the year.
Today's Cryptocurrency Prices by Market Cap

The global crypto market cap is $807.54B, a -0.72% decrease over the last day.#Crypto

— Ellen B (@BeishuizenEllen) December 19, 2022
This can be witnessed by the declines in the leading coins like Bitcoin (BTC) and Ethereum (ETH), which failed to stop their declining rallies. Therefore, the bearish cryptocurrency market was seen as one of the key factors that kept the lid on any additional gains in the PancakeSwap (CAKE) coin prices.
The current PancakeSwap price is $3.43, and the 24-hour trading volume is $27 million. PancakeSwap has increased by nearly 1% in the previous 24 hours. PancakeSwap is now ranked #61 in the market, with a live market cap of $555 million. There are 161,965,725 CAKE coins in circulation, with a maximum supply of 750,000,000.
Launching of the Aptos PanCake Bridge
PanCakeSwap has achieved numerous critical milestones, including the introduction of the Aptos PanCake bridge, which may have an impact on its pricing in the following days. PanCakeSwap launched the Aptos-PanCake bridge this month to quickly connect CAKE tokens to Aptos, Aptos Labs' layer-one blockchain.
As a result of this bridge, CAKE has developed into a multichain token between BNB Chain and Aptos. Aptos PancakeBridge allows users to bridge their CAKE at a 1:1 ratio between these two blockchains, allowing them to explore a vast and fascinating new world.
🔊Attention @PancakeSwap partnered with @LayerZero_Labs to launch Aptos PancakeBridge

💡Users can now enjoy an easy to use and low fee bridging experience between BNB Chain and Aptos

👉To learn more, read here : https://t.co/Hb5H6SlyM9#Aptos #APZ #Aptozeum

— asim-DX | $APZ (@asimdx84) December 13, 2022
In the meantime, PancakeSwap has announced a new collaboration with LayerZero Labs to provide Aptos Network with access to the PancakeBridge and the CAKE token. Thanks to LayerZero Labs' OFT (Ominichain Fungible Tokens) protocol, the CAKE token can now be used on more than one chain.
The CAKE token is now accessible on Aptos as well as many EVM blockchains via the PancakeBridge. As a result, these critical milestones were viewed as one of the primary factors that kept the PanCakeSwap currency higher.
PancakeSwap Burns Cake Worth $28 Million
PanCakeSwap presented the results of the December 2022 round of CAKE burning. According to the official tweet, 6.95 million tokens worth around £26 million were burned. According to data from CoinMarketCap, the burned CAKE tokens make up 4.4% of the 158.28 million total tokens that are currently in circulation.
$CAKE NEW ARTICLE : PancakeSwap Burns $28 Million Worth of CAKE, Price Shows Positive https://t.co/1InXbIrT6V Get all the latest $CAKE.X related news here : https://t.co/eMRjpWkYFO pic.twitter.com/QqRYxptbcv

— STCK.PRO (@StckPro) December 5, 2022
Additionally, there has been significant token burning as the total quantity of CAKE (350 million) is more than half the maximum supply (750 million). Burning tokens serve to reduce the overall supply of cryptocurrencies and hence increase demand. Hence, it was seen as another key factor that has been supporting the PanCakeSwap coin prices.
Venus Protocol collaborates with PancakeSwap
Another key factor that has supported the PanCakeSwap coin prices is the partnership between PancakeSwap and the Venus Protocol. The most well-known decentralized exchange (DEX) in the world, PancakeSwap has a partnership with Venus Platform to offer seamless token exchange capabilities on the leading DeFi crypto borrow/lend protocol.
With Venus Protocol's latest integration of PancakeSwap there's a lot for users to look forward to. pic.twitter.com/kY1hMUXfXu

— Necromancer (@Solomon20986866) December 16, 2022
After collaborating with PancakeSwap, Venus Protocol becomes the first protocol to allow crypto borrowing and lending, as well as the option to swap tokens with a single click. It significantly improves DeFi's usability and functionality. Due to the integration of PancakeSwap within the user interface, users will not have to leave the Venus Protocol to exchange tokens.
Bearish Cryptocurrency Market
The global cryptocurrency market has failed to stop its downward rally and is set to end this year on a bearish track. The majority of well-known altcoins, including Dogecoin (DOGE), Litecoin (LTC), and Solana (SOL), are flashing red, while top currencies like Bitcoin (BTC) and Ethereum (ETH) failed to stop their losses and remained well-offered. However, the crypto market was being pressured by the hawkish Fed stance, which indicates the continuation of its tightening of monetary policy.
Today's Crypto Market Mood: Bearish #Crypto #CryptoNews #Cryptocurrency #BTC #ETH #Bitcoin #Ethereum #IndiciaLabs pic.twitter.com/FWIqUDilUS

— Sophia – The Crypto Market AI (@SophiasMood) December 19, 2022
The head of the US Federal Reserve made it clear in his most recent statement that monetary policy tightening may continue until 2023 to combat rising inflation.
"We will stay the course until the job is done." Fed Chair Jerome
Powell speaks in a news conference after the central bank announced an interest rate hike of half a percentage point. https://t.co/cOMIC5GlLj pic.twitter.com/1g6uQ2PD9q

— CNBC (@CNBC) December 14, 2022
Investors seem hesitant to place any bids on riskier assets because of the central banks' hawkish posture. The weekend saw no improvement in Bitcoin's volatility, which suggests that bulls are currently in a dangerous position. This demonstrates that the bulls are now weak at these levels.
Everyone is Overly Bearish, This is usually when markets rally, and rally hard.#dogecoin #crypto #eth #bitcoin #bearmarket

— Myles G Investments (@MylesGinvest) December 19, 2022
In the previous week, the price of Bitcoin fell by 1%. Thus, the negative crypto market was viewed as one of the primary factors that kept any further gains in the PanCakeSwap currency at bay.
Top Coins Mentioned in the Highlights
Some cryptocurrencies are showing upside potential, with some doing well in presales and having the potential to yield 20x gains in 2023, even though the crypto market is set to end this year on a bearish note.
Today's top cryptocurrency gainers are FGHT, TARO, D2T, and RIA.
FightOut (FGHT)
Fightout is a new "move-to-earn" (M2E) approach that seeks to elevate Web3 fitness to new heights. You may work out as you want and get money from it thanks to the Fightout blockchain project, which integrates all fitness routines into the M2E market.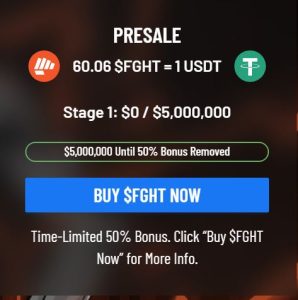 The platform connects the virtual and real worlds by bringing M2E mechanics to real gyms. It stands out from other M2E platforms by letting users talk to each other without having to buy expensive NFTs. The network's native cryptocurrency, FGHT, was made available for purchase during a presale at a price of $0.01665002 per token. Since it just began a private presale that collected $2.13 million, it has earned a spot on our list of today's greatest cryptocurrency gainers.
#FightOut is redefining #Fitness in the #Web3 era!

Don't miss this early opportunity to get up to 50% bonus with $FGHT!

Join the presale and be a part of the FightOut community! ⬇️https://t.co/7LjxoEBli3 pic.twitter.com/Cr0TTmwhmo

— FightOut (@FightOut_) December 17, 2022
Apparently, one of the biggest pre-sale success stories of 2022 is FightOut. In 2023, the team will be held to higher standards.
RobotEra (TARO)
RobotEra is a unique play-to-earn (P2E) blockchain platform that allows blockchain-based games, ownership of non-fungible tokens (NFTs), and the creation and sale of metaverse land plots. Its token is one of our top gainers in cryptocurrencies right now.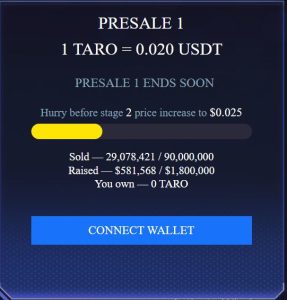 The project was started in 2022, and as of now, more than $575,000 has been raised. Its native token, TARO, is still in stage 1 of its presale. Investors have the chance to become members of the global RobotEra community by taking part in the TARO presale.
💰 Don't miss out on the $TARO presale!

With the #RobotEra presale, we are giving you a chance to become an integral part of our global crypto community 🤖🌎

Take advantage of this unique opportunity! ⬇️
https://t.co/UJ3inonrXH pic.twitter.com/OIhQDrOjiC

— RobotEra (@robotera_io) December 18, 2022
The price of the token, which is now $0.02 for each TARO, is anticipated to rise to $0.025 in the second stage. The third and final stage will see a 60% increase in value, and TARO will trade for $0.032.
#RobotEra is a powerful metaverse platform that combines entertainment and interaction 🤖

🛠 Create assets, and earn income by directly contributing to the game's economy

Take part in the $TARO presale to become a part of the #RobotEra ecosystem ⬇️
https://t.co/UJ3inomU89 pic.twitter.com/S3GnC2Mblw

— RobotEra (@robotera_io) December 12, 2022
The TARO token can be used by players to acquire and personalize robot NFT avatars. In other use cases, the Taro world is rebuilt by buying land in the metaverse and building on it.
Dash 2 Trade (D2T)
Dash 2 Trade is without a doubt the best of the biggest gainers right now. It gives investors a huge chance to make money and gives users a platform with a lot of benefits over the course of their trading or investing careers.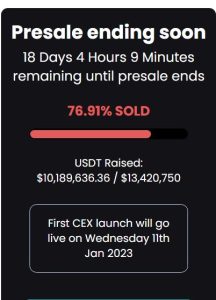 Dash 2 Trade is a cryptocurrency indicators platform featuring tools and features created to assist investors in crypto assets in making educated trading choices. It is owned and operated by Learn 2 Trade, an instructional platform introduced in 2017.
🌙 GOOD EVENING #INVESTORS 🌙

Dash 2 Trade provides #crypto trading signals, predictions, and social analytics to help #traders make informed decisions.

Join our community of 70,000 traders now!⬇️ https://t.co/ExvBBjKIU6 pic.twitter.com/oBa8LazsuU

— Dash 2 Trade (@dash2_trade) December 17, 2022
The development team for Dash 2 Trade is working ahead of schedule, thus the platform is almost ready for the beta launch. Dash 2 Trade, a cryptocurrency analytic and intelligence platform is currently in the final stages of its presale after raising an incredible $500,000 in only one day after going live. The demand is increasing at the same time as Dash 2 Trade's excitement continues to spread.
✅ Dash 2 Trade Presale Raises $10m – Ends Soon, CEX Listing 11th January, Dashboard Beta Launches on 5th

✳️ The hotly awaited trading analytics and signals ecosystem, Dash 2 Trade, has raised $10 million from investors who have been snapping up its D2T access token. pic.twitter.com/ddrdLsNzRI

— pos💰 (@Yahoopluse) December 18, 2022
With more than 75% of the presale tokens sold out, the presale has already generated more than $10 million. In the first half of 2023, the token is already planned to list on exchanges.
Calvaria (RIA)
RIA is another fantastic presale to invest in if you want to diversify your crypto holdings while remaining in the blockchain gaming industry. Calvaria is a popular play-to-earn (P2E) cryptocurrency. Calvaria: Duels of Eternity uses RIA as its native token. The game, which is set in a metaverse and has an afterlife theme, is intended to help traders purchase non-fungible token (NFT) trading cards.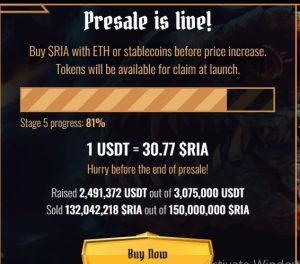 Players can create battle plans that directly help them win fights. NFT purchases and other internal transactions are made possible using the platform's native token, RIA. Users will be able to access all of the game's features through the project's free-to-play feature.
There is just $500k in the Calvaria presale, why you need to buy before RIA is listed!https://t.co/E8Q4bSIn7L
The new P2E battle card game known as Calvaria (RIA) has performed exceptionally well during its presale stages thus far, turning heads in the c pic.twitter.com/HLavWpEczJ

— Gamer Geek (@DataAugmented) December 16, 2022
The project team behind RIA is presently in the fifth and final round of the presale, where just 13% of the tokens are still available. To date, they have raised $2.47 million.
Related:
Dash 2 Trade – High Potential Presale
Active Presale Live Now – dash2trade.com
Featured in Cointelegraph – $10M Raised
KYC Verified & Audited
Native Token of Crypto Signals Ecosystem