Traders are optimistic IMPT has bullish momentum having bounced over 100% from the $0.007 level, and the team posted positive updates. The carbon offset market was introduced on the blockchain by IMPT.io. They achieved this by making the process more accessible, decentralizing it, and eliminating the widespread double counting and fraud in the current offset market.
It is exceedingly simple for people to minimize their carbon footprints because they can buy, trade, and retire carbon credits directly through the IMPT platform.
IMPT After the Presale
After its presale event, IMPT made a remarkable $20.5 million in less than two months, but what will be its value over the next few days? On 11th December, IMPT.io successfully completed its presale event, and on 14th December, it began listing the IMPT token.
Denis Creighton, the project's CEO, however, declared that the presale will be shortened because of changing market conditions in the sector. The fact that their investment enters exchanges considerably sooner than expected is great news for presale investors.
IMPT Exchanges Listing
After the presale's success, IMPT officially launched on its first centralized exchange. The first listing price for IMPT has been set at $0.0253, which is 10% more than the value of its token at the end of the presale. Trades in $IMPT are now available on Uniswap and LBank.  IMPT has a 24-hour trading volume of over $3 million on both exchanges on its first day listed.
IMPT Price Analysis
If you manage to purchase IMPT at the $0.007 level, you would be gained almost 98%. IMPT respect the support level of $0.01 and see that bullish continuation. If we get a reversal around $0.015, there will be a lot of selling pressure. The relative strength is also looking a little overbought.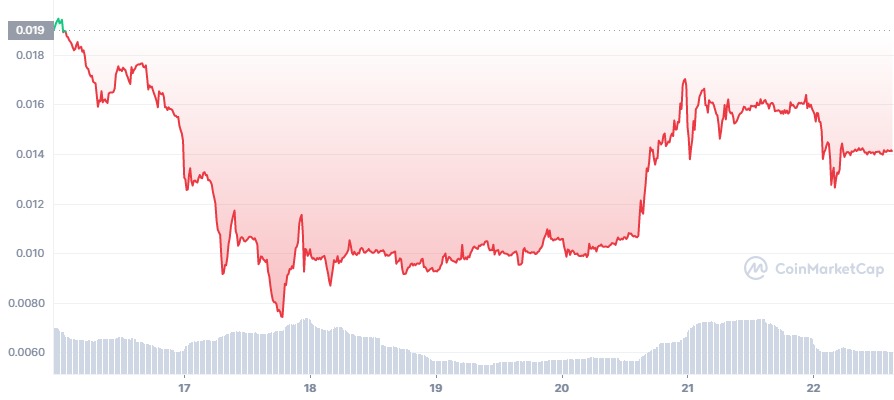 The index does not appear to be overly bearish, and there is still room for more upside potential, the main target is returning to the take profit zone. Originally had a 60% pump, now we need to see IMPT move another 75% from current price levels, the IMPT token market cap right now is $41 million fully diluted market cap.
The video above provides a complete overview of the IMPT price analysis and prediction. His YouTube channel also features further crypto price forecasts.
IMPT CEO Update
" We remain laser focused in delivering the next phase of development and growth for IMPT, its community and the planet!
We have some really great news to announce in 3 key areas!
This week we will publish the very first screenshots and release further information on Use Case 1. This is a huge development for going live in February 15!
We will release a list of the top 500 affiliate brands for our users in advance of going live!
We well be listing on Changelly this week and are at advanced stages of negotiations with a number of other exchanges!
We will provide regular updates on all fronts as we drive this great project forward!"
IMPT Price Predictions
The significant resistance we need to see is $0.015, and even though it's a bearish reversal, we can see the Fibonacci retracement and the support we need to keep at $0.014, if we do lose support for the IMPT token, there won't be a pump because it's a bearish reversal pattern. This is the ideal option available for IMPT right now because we'll get the sell-off, the Fudders, the fall down, the FOMO, come back in again, and that might be enough to drive a rally up to $0.015.
There's still a correction, it's still a higher low, but it's not necessarily a problem. You will be on the right path if you invest in and support green projects, which is one of IMPT's biggest benefits. You will become one of the many people who make up the huge community of businesses, sectors, and even governments that are supporting this project.
Related
FightOut (FGHT) – Move to Earn in the Metaverse
CertiK audited & CoinSniper KYC Verified
Early Stage Presale Live Now
Earn Free Crypto & Meet Fitness Goals
LBank Labs Project
Partnered with Transak, Block Media
Staking Rewards & Bonuses