The utility token price of the cryptocurrency The Open Network (TON) has begun to reverse its downward trend and has increased following a trading competition. On November 12, 2021, TON reached an all-time high of $5.7375, less than 3 months after it began trading on exchanges. At the end of the previous year, Pavel Durov, the CEO of the secure messaging platform Telegram, gave the cryptocurrency his support.
Yet, the token has not had an easy ride. Is the most recent price forecast for the TON bullish or bearish?
Do you want to know more about the cryptocurrency toncoin and its expected future price trend? For the most recent TON coin cryptocurrency news and price forecasts from analysts, read this price analysis.
Prediction of the price of Toncoin
As of November 7, 2022, price estimates for the TON cryptocurrency ranged from very positive to negative because of the possibility that the initiative may not achieve its goals or find widespread adoption.
With 12 bearish and 14 positive technical indicators, CoinCodex reported a neutral sentiment. It was predicted that by December 7, 2022, TON would have fallen to $1.27. Its estimate for the price of toncoin in 2025, however, was vague, stating that it may fall between $2.22 and $11.25.
TechNewsLeader predicted a rise in the TON/USD rate and new highs over the next ten years. It was predicted that the price of toncoin would reach a maximum of $4.13 in 2023. Additionally, the website predicted a maximum benefit of $17.52 after five years.
The Toncoin cryptocurrency price estimate made by DigitalCoinPrice was not as positive. TON is expected to be $1.69 on average this calendar year and $4.19 by 2025. According to their toncoin price forecast for 2030, TON might reach $8.83.
It's necessary to keep in mind that cryptocurrencies are still very volatile, making it impossible to anticipate the value of a currency or token in the short term as well as more challenging in the long run. As a result, projections provided by professionals and algorithm-based forecasters are occasionally incorrect.
If you are considering purchasing cryptocurrency tokens, we recommend that you do your homework beforehand. Evaluate the most latest industry trends, technical as well as fundamental analysis, news and professional analysis before making any investing decisions. Never invest money that you cannot afford to lose because past success is no guarantee of future success.
What Exactly Is Toncoin?
A flexible and scalable blockchain technology that can execute transactions more quickly and cheaply than existing networks, like Ethereum, is what the community-led initiative hopes to offer. Additionally, it intends to grow networking into an ecology that may offer other services, including rapid payments, anonymous networks, domain name systems, and decentralized storage.
Toncoin (TON), the ecosystem's utility currency, is employed to speed up transactions as compensation for staking and network validation. The proof-of-stake (PoS) mechanism underpins the blockchain, and validators must stake their cryptocurrencies in order to confirm user transactions made on the network.
The utility token has a five billion coin supply ceiling, of which 2.24% are held by validators and 74.9 million, or 1.5%, are controlled by the TON Association.
As of November 7th, 2022, TON had a live market cap of over $2 million and a 1.22 billion coin circulation supply, according to CoinMarketCap.
In 2022, the background and development of Toncoin
A Telegram Open Network was the first name of the project, which was created by the encrypted messaging service Telegram.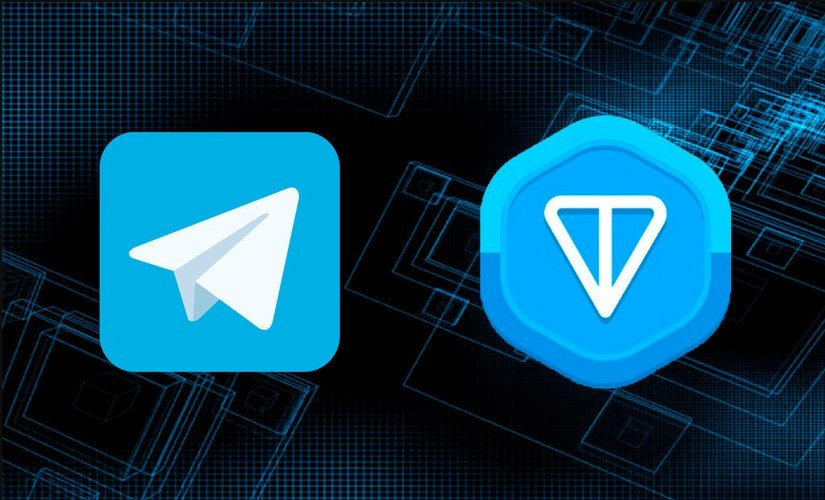 The SEC (Securities & Exchange Commission) of the United States has blocked Telegram from introducing a currency named Gram in March 2020. The SEC forbade the distribution of Gram because the sales of digital tokens would qualify as securities offerings for which there would be no appropriate registration exemption.
In May 2020, Telegram stopped working on the project, and software developers Anatoliy Makosov & Emelyanenko took over through the Newton open-source community. The Newton community was renamed The Open Network (TON) Association within a year after the group decided to go on mainnet.
TON coins may now be transferred to the Binance Smart Chain (TON-BSC) & Ethereum (TON-ETH) ecosystems. Thanks to decentralized bridges, TON was established in the third quarter of last year. Several cryptocurrency exchanges, including OKX, Bitget, FTX, Gate.io, and HitBTC, offered the network token in Q4.
The project intends to roll out more user-friendly features during 2022 to increase the TON ecosystem's use cases. On the TON website, it is said that the micropayment platform (TON Payments) & DNS are 90% finished and will debut in Q2 of this year, while the proxy network is 75% finished and will launch in Q3.
The TON Payments feature will allow users to do "immediate off-chain value transfers among users, machines, and other services," and the TONS DNS will make accessing the blockchain more like browsing the internet.
Price History of the Toncoin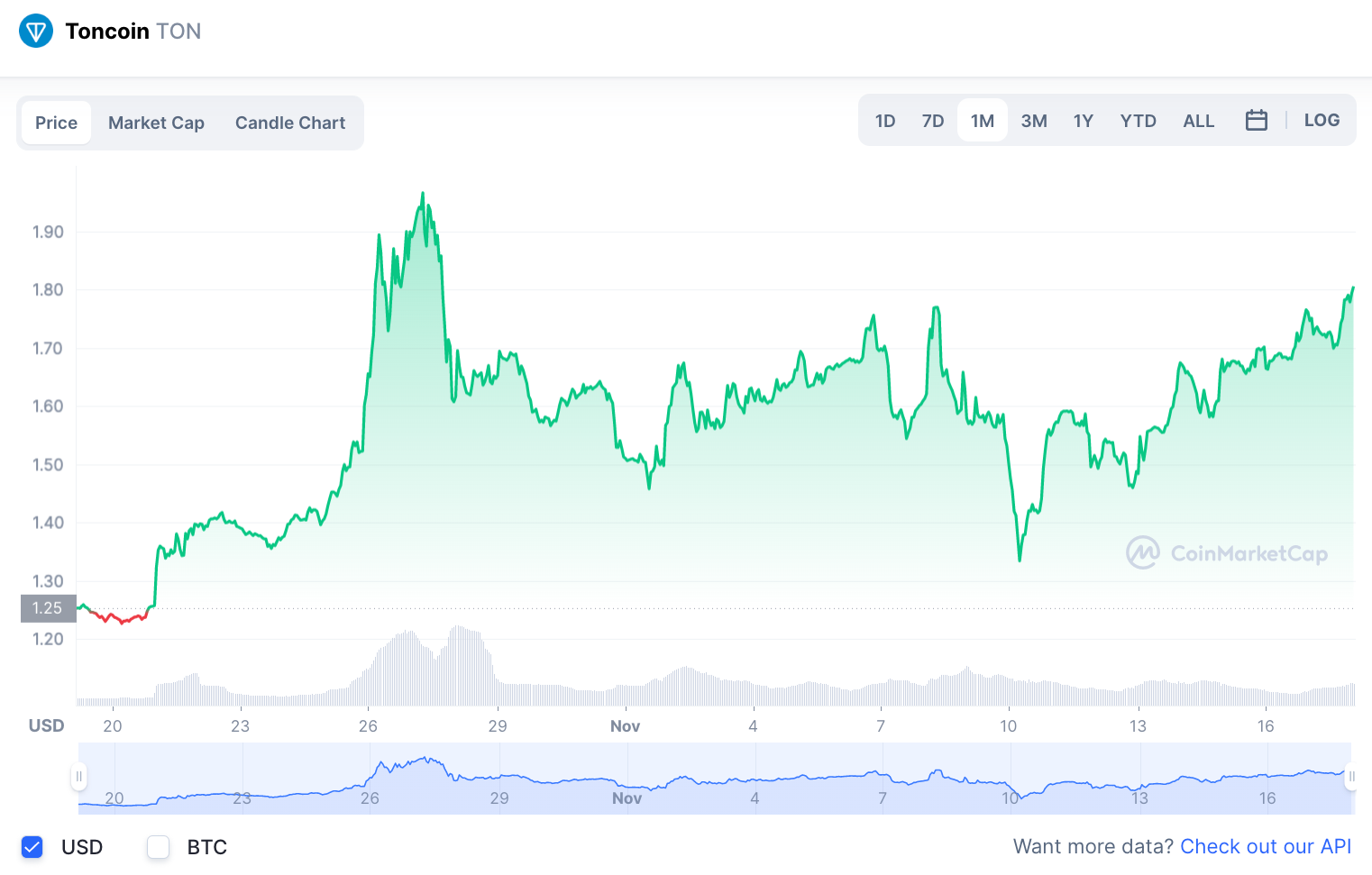 On August 26, 2021, Toncoin came online at $0.41 and saw consistent growth for the first few months before seeing its biggest breakout yet. On November 12, 2021, TON skyrocketed to its all-time high of $5.84. This came after a staking event organized by the bitcoin exchange OKX. The reward pool for those pledging the OKB token was worth a total of just one million TON.
Later, Toncoin disclosed that the event featured more than 4.2 million tokens, "making Toncoin the most profitable cryptocurrency of this incredible program." However, TON finally dropped alongside the 2022 bear market & gave up its prior gains during the year after peaking once more at $5 on December 25, 2021.
But in September 2022, when Huobi Exchange introduced a reward fund for TON traders, it started to climb again. The coin's peak price was $2.04 on September 7, 2022.
On October 27, 2022, the cryptocurrency had another boom and hit a high of $1.98. The cryptocurrency has previously been listed on the KuCoin exchange's trading bot product. While it has recently seen a minor loss, TON has gained over the long haul. It was worth $1.60 as of November 7, 2022, an increase of 18% over the previous month.
In short, there is possibility for TON to see further upside in the upcoming months. Another such token that is set to explode right after launch is Dash 2 Trade. Currently in its presale, the project has been gaining massive popularity. For investors looking to park their funds in high potential projects, coins like TON and Dash 2 Trade's D2T can be excellent options.
Read More:
Early Stage Presale Live Now
Doxxed Professional Team
Use Cases in Industry – Offset Carbon Footprint