Despite current bearish sentiments in the blockchain market. The price of TON has increased by 28% over the last few weeks, outperforming the top 100 cryptos. Toncoin is still pumping aggressively. The token has started to climb as a result of the flow of positive developments in the TON Network.
The whole Toncoin price analysis and forecast are covered in the video down below, you can also find additional cryptocurrency analysis on his YouTube channel.
The Open Network
TON is a fully decentralized layer-1 blockchain designed by Telegram to onboard billions of users. It boasts ultra-fast transactions, tiny fees, easy-to-use apps, and is environmentally friendly. The Durov brothers, who also created the instant messaging service Telegram, founded it in 2018.
What is Toncoin (TON)
Toincoin is The Open Network (TON) blockchain's native cryptocurrency. It is utilized for transaction fees, blockchain security through staking, network development, and payment settlement.
Use cases for Toncoin
As the TON ecosystem expands, Toncoin's impact on the new economy and Web3 will become more prominent.
Processing fee for transactions smart contracts.
Cross-chain transaction fees.
Validators' stakes required to maintain the blockchain.
Payments services provided by apps built on the platform.
Toncoin is integral TON's on-chain governance program.
Lending capital to validators to earn interest.
Payment for blockchain-based domain names (DNS).
Payment for TON Proxy. (soon)
Payment for data storage decentralized. (soon)
TON Price Analysis
The cryptocurrency markets are having a bad day, which has caused many altcoins to lose a lot of value. However, Toincoin has been pumping tremendously over the past month. TON is still up by more than 30% over the past week despite a recent correction, it has actually moved virtually parabolic, going from lows of $1.72 to a huge high over here of $2.81.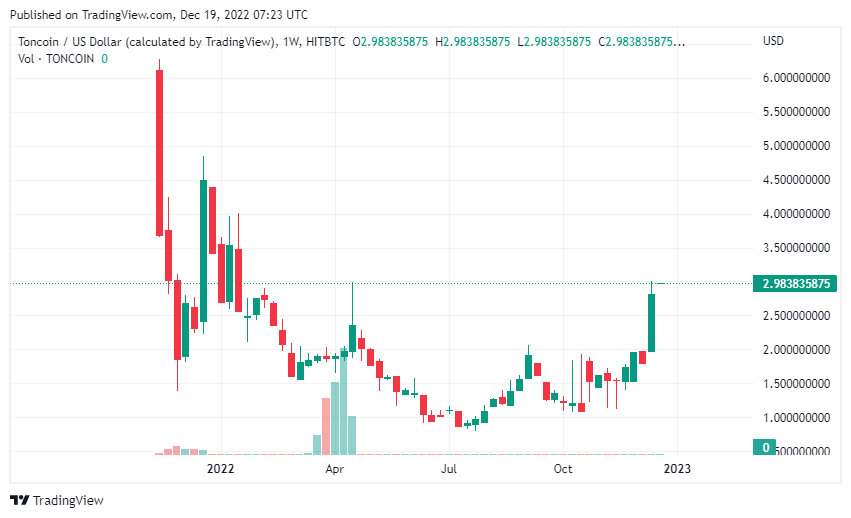 If Toncoin can continue its upward price trend, it may eventually reach key Fibonacci target levels between $3.12 and $3.38. However, given the current bearish sentiment in the cryptocurrency markets, the chance of a correction or pullback is significantly higher.
Right now, $2.16 is a crucial level of support, and Toncoin must be able to hold this level in order to prevent further declines.
TON Price Prediction
If we look at the price range, we can see that there was a correction and there are currently fourteen impulses from $2.19 to $2.49. Do not buy on this particular impulse, and be cautious if the relative strength index is at a overbought area. The value of Toncoin has risen by 50.15% in the last 30 days. As a result, we might anticipate a moderate recovery in the upcoming month.
By the end of December, Toncoin had risen in value by 18.68%, reaching close to $3.18. All indications currently point to a bullish zone, and the fear & greed index registers 68.04 as an extremely high level of fear. Technical analysis indicates that now is not the ideal moment to purchase Toncoin.
Related