In our latest Uphold review, we are going to discuss how this platform became popular and gained the approval of many traders. The Uphold reviews online show that this platform shows great dedication to its traders and has quite a few interesting features. But, let's see in today's Uphold crypto review do all traders think the same?
Most crypto exchange platforms are simple and convenient to use from a beginner's point of view but a few of them actually offer reliable services and high security as well as a huge choice of cryptocurrencies and other trading assets.
Uphold is one of these trading platforms that offer unique trading features and further in our Uphold review, we will read more about them.
Uphold represents a crypto trading platform that combines services ranging from crypto to forex trading but also offers brokerage services. You can find up to 200 digital currencies listed on the platform and the opportunity to also trade fiat currencies and precious metals. Despite its versatility, however, the fees on the exchange can be quite high which is why most traders don't opt for this platform.
Uphold Review: Model And Services
Uphold is basically a cloud-based crypto exchange that was founded in 2014 by Halsey Minor. It also got a license in the US which made it a suitable platform for offering regulated crypto trading services.
The platform was initially named Bitreserve but then the company rebranded itself in 2014 and changed its name to Uphold. Since then, the platform offers a list of more than 90 cryptocurrencies and utility tokens, 50 US Stocks, forex trading, and other assets, as the Uphold App review shows.

The website is essentially a virtual wallet for fiat and crypto and users can store their assets here quickly, send funds to other users across the world, and even exchange currency. This conversion option is one of the best features of the platform which attracts many investors. With the Uphold account under review, we can see that the users use this platform as a wallet and exchange mainly for trading cryptos like BTC, ETH, LTC, BCH, and more.
Uphold has a 100% redundancy model which allows the platform to subsidize the client's assets with a 1:1 ratio from its reserve funds. This way, the exchange is actually the first-ever financial-service company that shares its reserves in real-time. Right now, its services are provided to millions of users based across 180 countries.
The way it works is that it offers a platform app model and a payment system that offers financial services but the full payment service protects the users from the volatile market and gives them the chance to safely convert money into USD, EUR, or other currency.
The Uphold reviews say this platform is available in Spanish and English and users complained that there's no Russian or Chinese language available on the platform yet.
Uphold Features
– Uphold supports more than 200 crypto assets such as Bitcoin, XRP, Ethereum BNB, and even meme coins such as Dogecoin. It also provides support for Defi coins and stablecoins like USDT and USDC.
The platform allows users to buy and trade US stocks such as Apple, Amazon, Tesla, and Google but also users are able to buy stocks worth up to $1 and then get dividends. Uphold supports 37 national currencies and precious metals like silver, gold, and platinum.
How this works is when a user decides to buy precious metals, Uphold holds this metal in their reserve, and the vaulting partner's audit the metal holdings every day.
– Security measures – The Uphold app review shows that it takes a few steps to make sure its users and the funds are safe like encryption of emails, and private keys, 24/7 system overwatch, background check on employees, and two-factor authentication for the users as well as for the employees.
The platform also invites independent security auditors to conduct testing and make sure all security measures are in place. But users play a key role as well by reporting bugs and other types of vulnerabilities.
Uphold Rewards
Uphold users can make money via trading or holding their digital assets but the platform also offers passive earning opportunities. For example, the users can stake coins and earn APY rates.
Uphold Platform Downsides
Spread Fees
One of the biggest issues for users on this platform is the expensive spread fees that can be very high for the low liquidity crypto assets. For most assets like BTC and ETH, the spreads can vary from 0.8% to 1.8% depending on location.
Also, the spread for precious metals is 3%, 0.2% for fiat currencies, and 1% for stocks. Uphold doesn't charge other fees like withdrawal or deposit.
Probably the biggest issue is that these spread fees are hidden which means that the users will not be able to see the spreads for the trade. In order to get a fair price, users are advised to compare the quotes with other exchanges.
Protection Of Funds
Some users reported that their funds were transferred from their accounts without granting approval and this is why a class action lawsuit was filed against the platform.
Lack of trading features for advanced traders
Unlike other trading platforms, Uphold doesn't really offer advanced tools that can help professionals and more experienced traders with the decision-making process.
Uphold Fees
This platform charges spread fees on each crypto trade and for every crypto available to buy or sell on the platform the exchange will ist a bid-ask spread. The bid price is what the users get for selling crypto while the asking price is what you would need to buy one.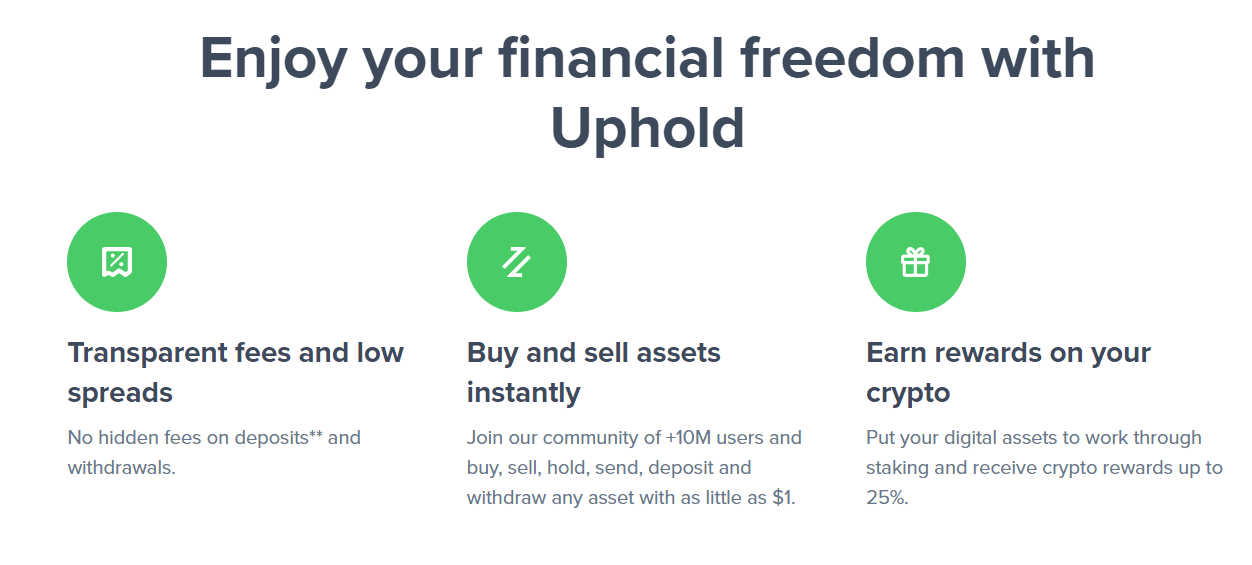 If for example, you would like to complete a transaction, the exchange will charge a spread fee on top of the quoted market price. For US customers that want to buy BTC or ETH, Uphold will charge a spread fee of 0.8% and 1.2% of the market value for the trade. The spread is about 1.8% for other parts of the world.
According to the Uphold reviews, the platform charges higher spread fees for lower-liquidity crypto assets like Dorge or Ripple but they also charge high spread fees in times of market stress. For other assets besides crypto, Uphold charges a 3% fee on precious metals, 0.2% for fiat currencies, and 1% for US equities.
Uphold doesn't charge commissions on the spread fees which means that if you decide to move the tokens to the external wallet, you might have to pay a fee to cover the costs of third-party transaction fees.
Regulation and Licensing
Uphold is actually regulated by the US Department of Treasury and the US Treasury Department for Financial Crimes. In Europe, Uphold partnered with the Authorized Payments Institute which reports directly to the United States Financial Regulatory Authority.
FAQs
Is Uphold Legit?
Uphold is a legit platform that aims to protect clients' money and assets.
Does Is Offer Wallet Services?
Yes. Users on this platform can store their funds in a wallet that is available on both iOS and Android.
Is the Platform Free To Use?
Uphold is not a free platform as it charges spreads each time that a trade is executed.